The Future is Now with Deep Tech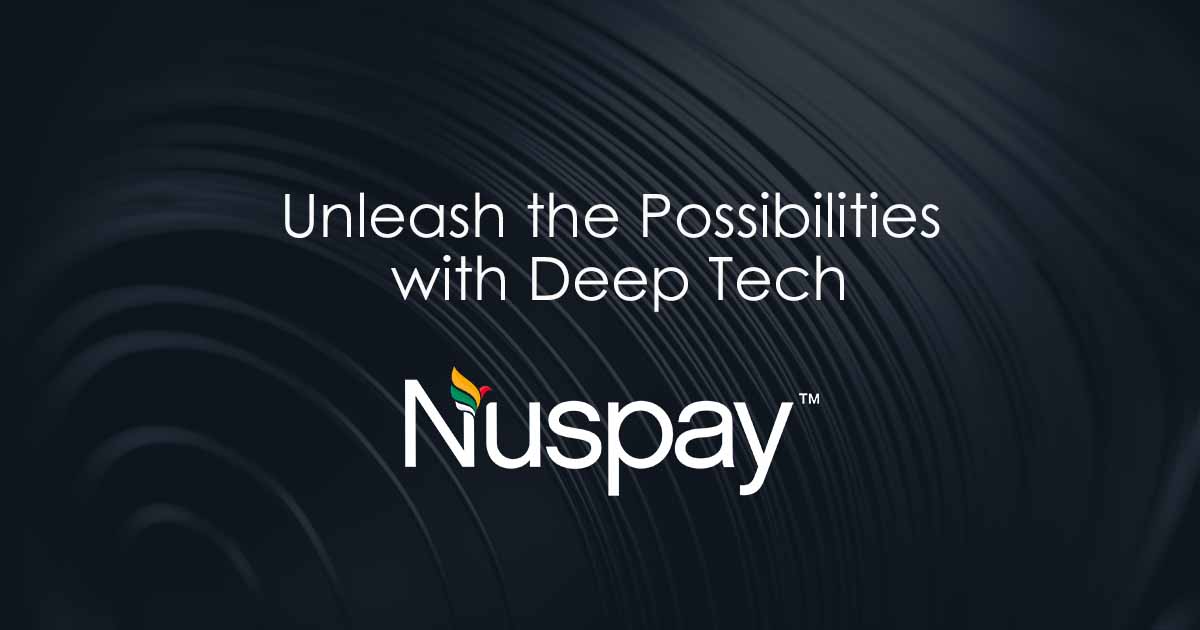 Deep Tech brings next generation technologies, eradicating the current problems of the world. Lot of you may wonder what Deep Tech actually is. Nuspay Deep Tech assembles a number of intricate technologies focused on innovation or technological advancement and findings of tangible engineering. Deep technology is often characterized by its vast ability, capacity to differentiate and its catalysts. Deep Tech firms like Nuspay™ also own basic and viable advances in engineering digital payment systems, which separates Nuspay™ from those companies whose emphasis is on steadily improving, streamlined technology or that will only use advancement in the business plan to generate opportunities. Technology can be built by developments in processing and computer engineering, developments in semiconductors and power electronics, electrical devices, speech and vision recognizing algorithms. The Deep Tech concept is quite simple. It is simply transforming a non-digital company or business model to a digital one. For that reason, this technology is easy to copy by other companies or business models and thus the market is not so disruptive.
On the other hand, Nuspay pioneers with real technological breakthroughs and expands around it. It is used in the modern world for addressing almost unwavering problems. Profound data engineering companies such as Nuspay™ would undoubtedly leverage new or current digital technologies to draw onartificial intelligence or computer education or other groundbreaking applications- Blockchain, VR and computer imaging are some of the examples of deep tech.
Nuspay's Deep-Tech involves AI, smart electronics, biometrix, automation, photonics, and quantum computing, that is transitioning rapidly from early testing to marketing. In a way, the modern technological revolution has changed the way people live and engage with various platform innovations and infrastructures. Deep tech is the next generation technology and will bring changes in every aspect of our life. How much changes we have seen from the previous upsurge of technologies like computer, internet, mobile etc. can only comprehend by the changes deep tech will bring.
Efficiency with Deep Tech: Digital Payment Solution ( Fintech )
For several years we have learnt about the revolutionary inventions or scientific methods that can continue to transform the environment by using them with each other in combination. These innovations are much more complicated and fundamentally alter how new ideas are created. Scholars and researchers sought to interpret the effect of these developments, and the length of their implications. IoT, AI, artificial learning, quantum computing, biotechnology and sophisticated robotics are increasing all their ability as we enter the next era. It will require a lot of resources and time to completely create, but some really complicated challenges can be solved using it.
Deep tech can be used in problem solving in different industries and aspects such as in digital payment systems & also virtual account payment solution as integrating deep tech in payment solutions is the only way to take it to the next era. Deep Tech in Fintech applications can eradicate the conventional problems that payment platforms are faced with. Digital payment system using AI and machine learning for predicting patterns, reducing generic data loss and preventing mass disruption by predicting them and taking appropriate measures beforehand. Payment security is ensured by innovative encodings and finding ways to get more yield, finding cost efficient ways to produce financings and other payouts so that it may be affordable to the mass. The usefulness of Deep Tech has no end.
Ascendant Deep Tech in Payment Application
Artificial intelligence will change the speed of the payment applications that are currently in place. It will help increase service quality, customer experience and promote changes in customer feedback. It can boost productivity and access to FinTech facilities effectively. It will improve the productivity and the reliability of tha virtual payment gateway and encourage Nuspay™ to offer far more services to more and more customers. AI will continue to enhance the digital payment algorithms with blockchain for meeting the demands of the fast moving society. AI will boost payment operators and professionals' experiences, encourage them to invest additional time on portfolios that seemed unapproachable before and allow them to spend far more time directly and to minimize burnout. Finally, the quick delivery of payment can be facilitated, particularly by reducing lead time. Finally, they will facilitate easier service delivery, primarily by acceleration of processing time and help financial firms to control time adversities in order to speed diagnostics and to assist financial systems to more proactively manage investor wellbeing, assign resources to the relevant organizations where they have the greatest effect and allocate resources. Artificial intelligence (AI) can improve the liquidation process and help solve many of the current problems. The number of financial organizations, investor & specialist bodies that understand the possible effect of AI on financing is increasing day by day.
The Apex: Nuspay Deeptech Technology is the Future
Deep Tech may sound too contemporary or super modern, a slogan that is often tossed around. But Deep tech like blockchain, machine learning and artificial intelligence are currently used to improve business success and develop and seize new business prospects in a number of industries. However, with Nuspay™, deep tech has a notable impact on major FinTech firms, with current and established banking and finance players tackling the threats. It increases not just the accuracy of the business, but also the degree of customer participation and accelerates the question acknowledgement time.
At Nuspay™ we'll find the solution to Deep Tech's value in FinTech industries and institutions to find anomalies through Virtual Account Payment System . A variety of algorithms have been used to automate banking and financial processes. In conjunction, FinTech's algorithms provide detailed results. The reverse predictive analysis on the other hand, highlights any opportunity and lets the consumer choose the highest quality of service. In addition, on FinTech portals and smartphone apps, all of this information can be found online. Moreover, opportunities arising as the banking sector is digitizing, new payment systems are emerging and regulatory standards are continuously changing. Fintech as well as financial firms were one of the first ones who improved their business by adapting to mainframe computers, relational databases and now they are keenly waiting for the next generation technology to become accustomed.
Deep Tech in Fintech firms aids it to optimize productivity to address human problems. Deep tech enhances outcomes by the use of multiple approaches extracted from different facets of human knowledge at a higher level. Moreover, with Nuspay™ it has become possible for the target population to use simple and cost-effective digital financial solutions due to the latest wave of technology-oriented banking institutions and advanced algorithms.