Nuspay X-Border - Frictionless Experience to Send Money Globally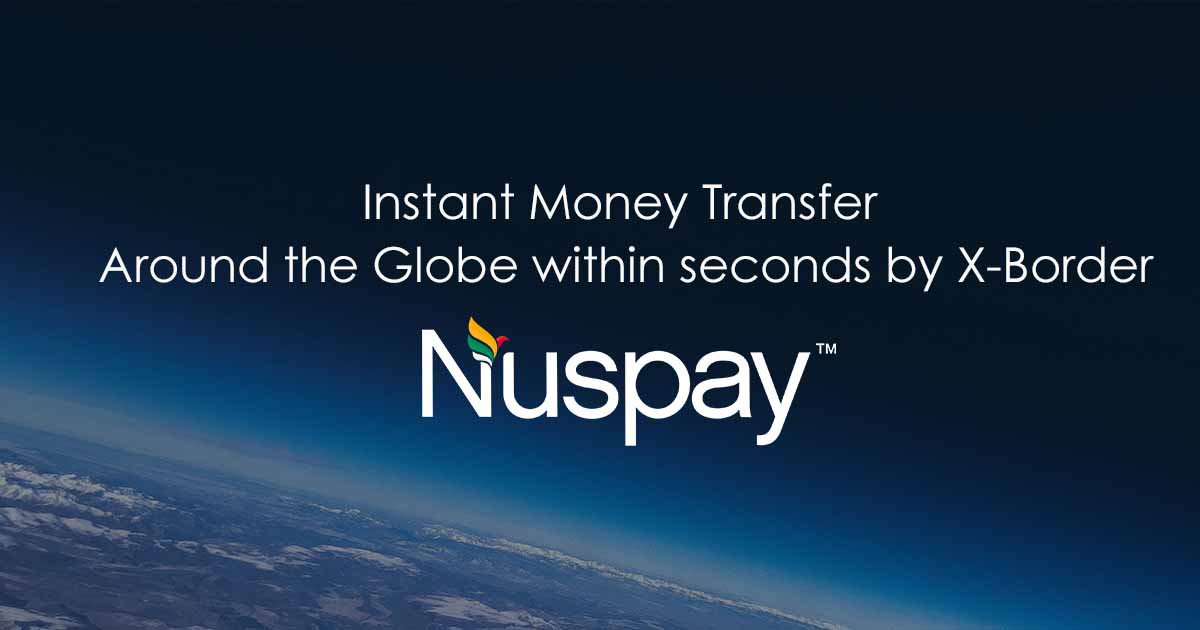 Nuspay X-Border provides technology that expands cross border Payment Solutions. It facilitates substituting between all the participants in the payment grid. This allows funds to be steadily & securely pass between the customers, vendors and also the relevant banks on a safe & secure network. Nuspay™ X-Border validates the specific payments and enciphers the very sensitive financial information that gets transferred between all the relevant parties.
Nuspay™ X-Border offers technology to evolve the current transfer platforms with transactions that facilitates switching between the various players in the payment network, allowing funds to be securely passed among customer, merchant & bank on a secured network..X-border makes use of all the existing entities to establish a protocol that makes it easier for all the end-users to send remittance from one country to another. X-Border will also use the regulatory compliances that are already in place in several partner banks. Instead of using the archaic protocols, X-Border will be using the Ripple Network, which was created with state of the art Deep tech advancements.
Why Do We Need an Enhanced Cross Border Platform?
The increasing global portability of commodities, services, funds and individuals are contributing to the increasing significance of an enhanced cross-border payment platform. Global traffic has grown exponentially over the last Decade. The globalization of manufacturing led various supply networks to become exponentially globalized. For example, the global worth of commodity trade exports has been increased by approximately twenty percent and of exports of commercialized services by approximately forty six percent from 2008 to 2020. Generic cross-border electronic commerce affair has handed out the growth of person-to-business and there is room for more with Nuspay™ X-Border.Cross-border payments are expected to grow exponentially, which is supplementary, in the upcoming years. Fifteen to twenty percent of electronic commerce trade value is already picked up and with the introduction of X-Border, it might take e-commerce to new heights with its advanced p2p protocols in place. Global travel and relocation continues to sprout, which is creating an additional demand for enhanced cross border platforms. International traveller congregation grew fifty three percent from 2010-2019, globally. Many global migrants remit funds to support their family and friends in their hometown and this also requires an effortless cross border platform, thus the existence of Nuspay™ X-Border. Instead of using the archaic protocols, X-Border will be using the Deep tech Network, which was created with state of the art Deep tech advancements, thus enabling the cross border money transfer using the Deep tech technology.
The Problems of Current Cross-Border Platforms
The challenge of cost includes a lot of constituents, which includes outrageous transactional fees, account fees, agreement costs, applied forex conversion rates and fees all along the payment network and lastly liquidity cost of advanced funding. The challenge of velocity includes the insufferable processing time of certain remittance solutions, sending money from one end to the other, including variable elements like the actual time that is required for all the dispute resolutions, adjustments and fetches. The time consuming resolutions also include, slow processes for financing and disendow, daily break-off times and stopple times. Recent unorthodox services like Nuspay™ X-Border can massively reduce lead times and can offer on the spot settlement on the cross-border platform. It will also be able to show the same amount of required thoroughness in vitalchecks, like Anti-Money Laundering & Combating the Financing of Terrorism.
Another difficulty includes restrictions of users in obtaining services for Public Safety Power Shut Off, as accessing payment gateways can be near impossible for any natural technological barrier and no other arrangements are available.
There is also discrepancy of transparency for total costs, pace, handling chain, and remit status. These present difficulties for the ultimate-users and (except for the single-platform exclusive services) for the service providers alike. The difficulties of restricted transparency interconnect with the main 3 problems of cost, pace and lastly, access. Recent initiatives are taken by Nuspay™ X-Border, which aims at addressing transparency.
The Future is X-Border
Nuspay™ X-Border seeks to bring Improvements to the operational aspects of cross-border payments . This also brings improvement to the productivity and overall pace by providing a global money sending platform by which funds & payments are transitionally processed. . We have created the building block by which further analysis can be examined in ways by which the public and private sectors can incentivize functional improvements for further addressing these challenges. Abrasions can arise from the lack of use of systemized payment messages and the sensitive data sets they contain and from significant market practices in processing payments. X-Border introduces systemized payment systems and encryption of the data to further safeguard the interests of all parties involved. For being a virtual platform, Nuspay™ X-Border can bypass all the critical and diverse regulatory practices, thus triumphing over all the other platforms in general.