Reinventing Payment Solution by Nuspay Virtual Account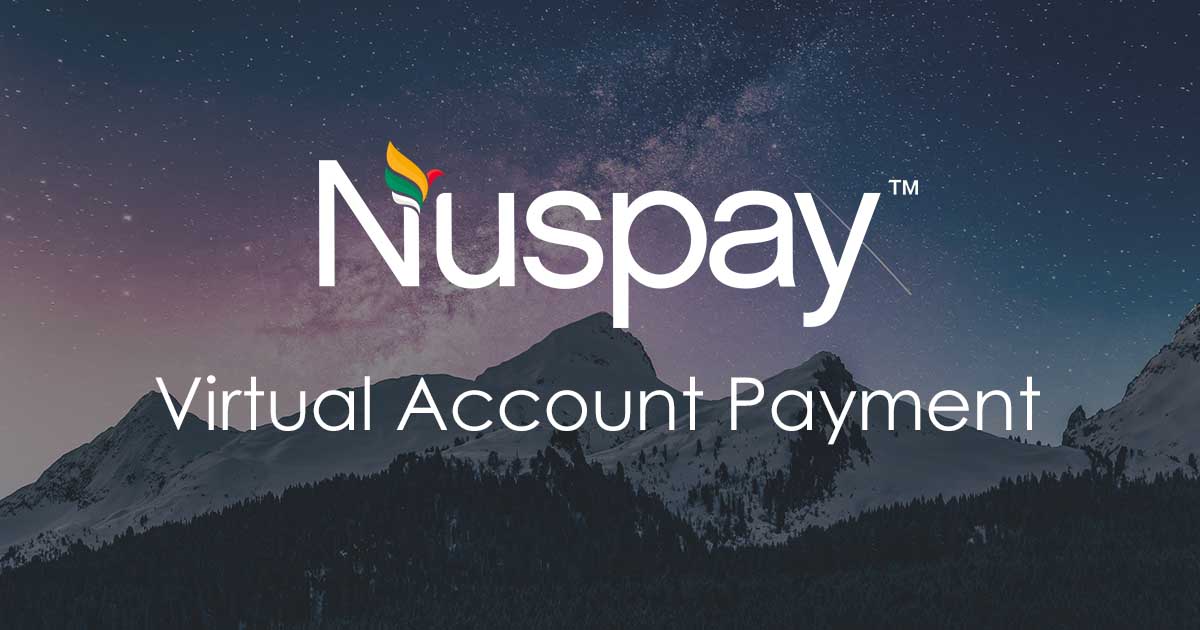 Nuspay's revolutionary virtual account Payment System is specially designed to deliver worry-free financial transactions with committed security endeavours. Nuspay has introduced this virtual solution for ensuring security of customer's delicate information, while also being the solution for an efficient digital payment solution.Nuspay Virtual Account replaces sensitive personal data with a temporary payment token. This token is generated for every time on request against customers' bank account details and not against the debit or credit card details. A non-permanent payment token is used, replacing the sensitive data, when a transaction takes place through Nuspay's virtual account. An encrypted token gets generated for each transaction, as a result, all the sensitive information is protected from external tampering.
Nuspay introduced the world's first virtual account Payment system. Since its inception, Nuspay has been striving to provide the best user experience with its state of the art Virtual Account. With Nuspay Virtual Account, users will have the freedom to perform any finance transactions without revealing their Bank Account or Debit or Credit cards details during Merchant Payments and carry the account instead of balance for e-Payments bypassing steps for AML or CFT.
Background - Why Nuspay Virtual Account Payment is an important Innovation
Nuspay discerned the need for an alternate platform for operators of a payment network and providers of services over communication networks as protection of the payment account number is an increasingly important function. The existing black hat hackers pose a threat to the payment account numbers. Meaning theft and fraud happening through these hackers/agencies serious crimes, can cost companies millions of dollars every year, and can affect individuals and a wide range of enterprises, including online retailers, insurance companies, healthcare companies, and financial institutions, among others. Exchanging hard cash in public places is also dangerous as people are targeted by robbers. Robbery in the store, road, and other open or public places are rising and each year, thousands of people are getting killed by the robber to get cash. Express services are also getting hindered and the cash queue grows even bigger when the cash operator needs to provide Small changes to the customers. Self-service check out or service outlets also wanted to reduce the burden of cash counter operators during holidays rush to the Supermall or financial institutions. These are the segments where Nuspay is trying to mediate.
Our concept of Virtual Account Payment is similar to that of the commonly practiced tokenization solution in the payment industry. During the transaction, which is processed by the Virtual Account method, user provided sensitive personal data is replaced with a temporary payment token solution. A token is generated for every request against a customer's bank account instead of using the customer's details of debit or credit card. The token is created with a very short life span, for a specific amount, to only the targeted beneficiary and upon the customer's authorization.
Let's have a quick look on Nuspay Virtual Account Payment
Summary: Let's take a deep dive at how Nuspay virtual account solution actually works. Customers' sensitive personal data is replaced with a virtual account payment token. The generated token is linked to exact parameters which makes it applicable for a specific use only. Nuspay obtains transaction authorization from the issuing bank verifying that the customer's account is authentic and has sufficient funds for the purchase. Virtual Account data is also meaningless to hackers, as a token does not hold any customers details or other real identity information. The token is also created for a very short lifespan with a concrete amount to the targeted beneficiary and upon the customers authorization and this way the customer sensitive information always remains secure with Nuspay Virtual Account solution.
How Nuspay Virtual Account Payment System Works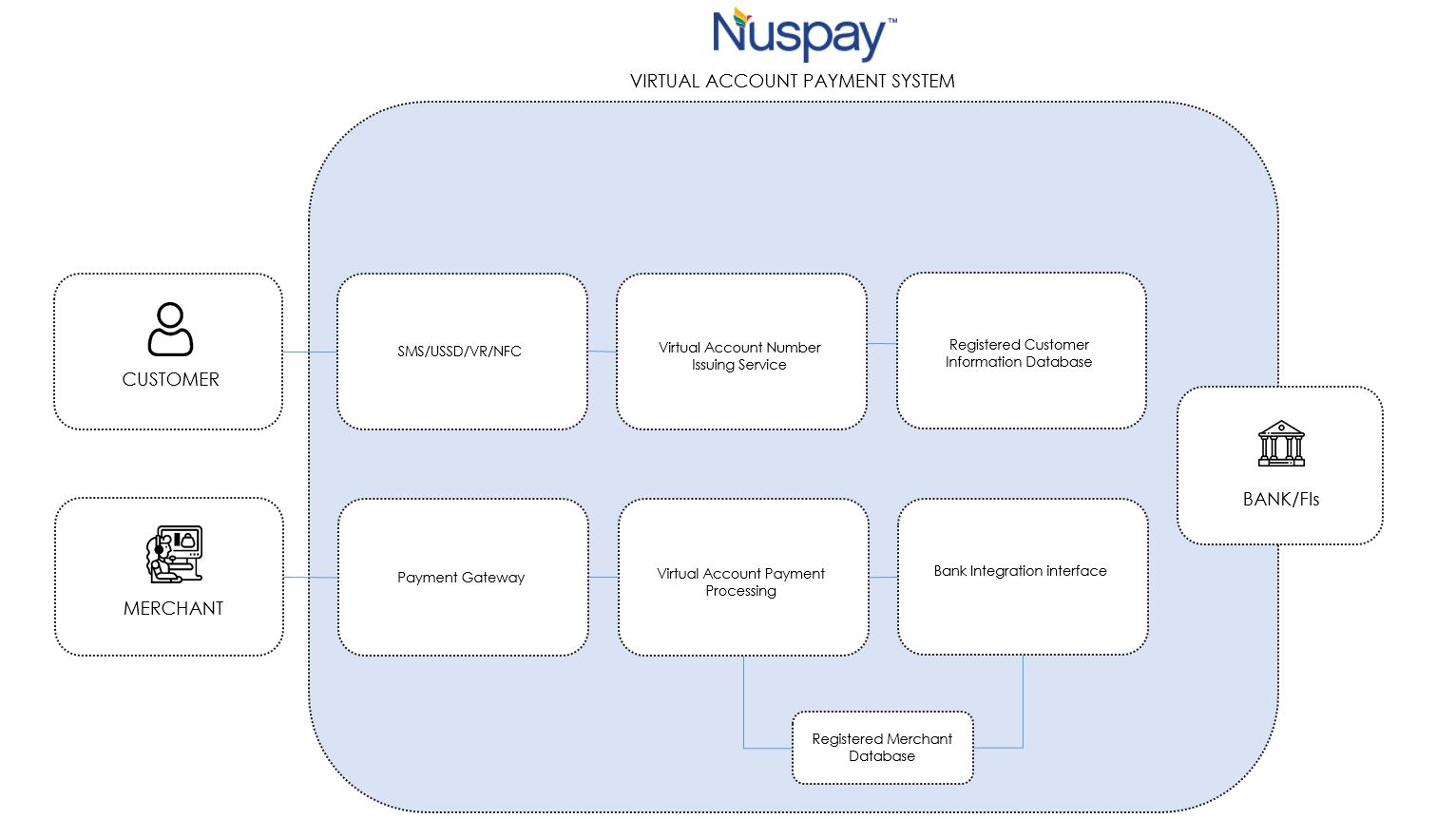 Nuspay has patented ( See Virtual Account Payment System Patent) a number of technologies in order to serve its target base. Nuspay's Virtual Account can generate a virtual account number associated with a customer bank account for payment with a fixed transaction amount for at least one transaction. This process will be initiated from a customer's authenticated mobile device, which ensures communication of the virtual account number to the end user and validating it for the payment process. The processing initiated from a customer's mobile device uses SMS text message or USSD or Smart Apps or Mobile Apps or STK authenticated by a passcode generated by IVR system. The virtual account numbers are selected from the group consisting of a series of numbers, bar-code, NDEF and binary format. The virtual account numbers are of 10-20 Numeric or Alphanumeric characters. Then virtual account number is finally generated as barcode or binary format, including optical machine-readable representation of data like 2D, 3D, Matrix barcode QR code & NFC Data Exchange Format (NDEF). The validity or lifespan of a specific virtual account token is limited to the period specified by the type of transaction and other user defined parameters which can include date and time.
A simplified number of steps are provided below for a general use scenario:
Upon selecting the desired product online, the user will proceed to the payment page.
The user will see the available payment options and click on the nuspay option to proceed to the gateway .
In the gateway the user will be prompted to enter the login credentials for Nuspay™ (which will be provided to the user beforehand, through registration).
After the credentials are entered, a push notification will be sent to the users registered mobile number with the temporary token number in it. The user will enter the token number in the Nuspay™ gateway to complete the transaction. Another push notification will be sent to the user's mobile, confirming the transaction's completion.
All in all, the Nuspay System is also known as "Nuspay Payment Gateway" or simply "Nuspay". Nuspay will facilitate, simplify and consolidate payment transactions and settlement of funds from customer bank account to merchant bank account. Customer, Merchant and Bank can rely on Nuspay's system for confidentiality and security of the transactions with its approach of virtual accounts and multiple channels to authorize payments to prevent fraud.
Why Choose Nuspay Virtual Account Payment System?
Emvco uses the generic PAR (Payment Account Reference) for transaction while Nuspay uses VA (Virtual Accounts Payment)
A token can be for multiple or single use through Nuspay™ Virtual Account, unlike EMVco, where a token is only single use.
Nuspay™ Virtual Account adopted the easy to assign and input 10-20 numeric or alphanumeric accounts whereas Emvco uses a fixed 29 characters that enlist a mixture of numeric, alphanumeric and roman characters.
Making Payment Hasslefree with Nuspay VA (Virtual Account)
Making payment online is very secure and hassle-free with Nuspay's Virtual Account. User only needs to have a registered Nuspay account. User would automatically find Nuspay payment option with other payment options like Visa or Mastercard at the checkout of the online cart/basket. All the participating merchants accepting Nuspay's Virtual Account would provide customer with Nuspay payment option.
Future is here with Nuspay Virtual Account Payment System
Nuspay went all in when it comes to user satisfaction. Nuspay's virtual account Payment aims to serve globally. The tremendous scalability of the technology will further restructure how transactions are made. The virtual accounts of Nuspay™ provide maximum efficiency with minimal effort. It has already enhanced the standard of living by providing an all in all digital payment solution in the USA and further improving globally.
Beyond the avant-garde security features that comes with the virtual account Payment ecosystem, there are a lot more user friendly features that can be pointed out for the future. Artificial intelligence can keep track of the user's expenditure, anomalies and ultimately help the user save some money. This can be done in a lot of ways. AI integration in the application can show you your spending patterns through graphs and relevant merchant breakdowns, also involving a variety of other parameters. The application can also allow users to set limits for Nuspay Virtual Account's single transactions and add limits that can span for weeks or months.
Other interesting features that we can look forward to are savings accounts, which can allow users to benefit from a kind of savings account, that will give interest over the balance of the user in the virtual account. Another fascinating feature which can be related to savings is when the users can set a significant amount after every payment to go into a savings account and that will be separate from their spending balance.
To Integrate Virtual Account Payment to your system , Please feel free to contact us on info@nuspay.com
Patent Information: Nuspay is the First in the world to introduce Virtual Account Payment System
Patent History
Publication number: 20140358783
Type: Application
Filed: Apr 11, 2014
Publication Date: Dec 4, 2014
Inventor: Md. Abul MANSUR
Application Number: 14/251,241
Patent Listed On